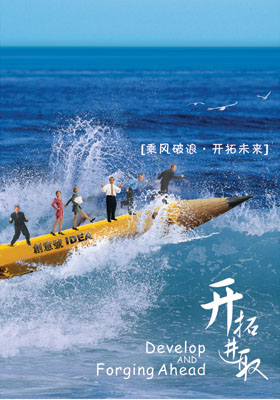 1、Human resource system
  Wetouch pursues the "people-oriented" talent strategy. More than 80% of the company's total employees hold at least secondary vocational school diplomas. All of the middle-level cadres have working experience in coastal or foreign companies; some of the core technical and sales staff have many years of overseas work experience. In the areas of technology, production and quality control, the company specially hired senior talents from the United States and Taiwan to serve as the persons in charge.
  2、Sales system
  Wetouch has a senior professional marketing team with background in the touch screen industry, who can provide the most professional advices on selecting touch screen product models and the most suitable product solutions for domestic and industrial users in financial, medical, POS, automotive GPS and other industries, and thus bringing the optimal procurement costs.
  3、Research and development system
  Wetouch has a group of senior technological research and development staff with technical background in touch screens, and the international advanced five-wire resistive screen, surface capacitive screen, projected capacitive screen, and touch display technology. The company is particularly powerful in the development of projected capacitive screens. It also has R & D facilities in the United States.
  4、Production system
  Wetouch is located in Chengdu, the economic center of southwestern cities. The company has modern production facilities, especially the clean room, which is equipped with advanced management, and is up to class 100-class and 1000-class standards. The company purchased nearly 20 mu of land at Wenjiang District, Chengdu, to build 10000 square meters of clean workshops, and purchased 100 mu of land in Shigao Industrial Park at Tianfu New District to build 50,000 square meters of office and capacitive screen workshops, and build 5,000 square meters of production workshops in Pengshan Qinglong Industrial Park at Tianfu New District, setting up their own touch screen and touch panel display manufacturing industrial park, with an annual output of 10 million touch screens and 300,000 touch screen displays.
  5、Quality system
  Wetouch has passed the ISO9001 Quality Management System certification. From the purchase of raw materials to product delivery, each procedure is controlled entirely according to ISO9001 Quality Management System; the company has also passed the FCC, CE, ROHS, UL, ETL, CCC and TS16949 certifications.
  6、Logistics system
  Wetouch has a team of personal with sound experience in both the management of modern logistics and business management, to provide the most efficient logistics services for domestic and international customers in various fields.
  7、Customer service system
  Wetouch implements the concept that after-sales service is one of the guarantees for the development of the company. Wetouch has established a sound service system covering technical advice, problem feedback, and replacement/return system to ensure satisfactory services for customers.
Wetouch believes that a good enterprise needs a comprehensive incentive mechanism in addition to a number of high-quality personnel. It is under this guideline that Wetouch Technology has formulated a sound advanced evaluation system from the staff to the general manager and the system of rewards and punishments suitable for the actual conditions of the company, to ensure the enthusiasm of the staff and the long-term development of the company. They have created a miracle of superb reputation and performances.
Wetouch has been pursuing sincere cooperation. To achieve win-win situations of two parties or even multiple parties is the company's cooperative attitude towards suppliers and customers, as well as the principle that Wetouch employees stick to in their routine work. Wetouch employees follow it as the criterion, and meticulously pay attention to it in their routine work.